3

PL / Brokerage / Logistics

We provide niche consulting services, especially designed for 3PL's, brokers, and truck lines with in-house brokerage services.
Solomon Consulting LLC offers:
Operations measurement and critique for performance improvement.
Review, development and implementation of standard operating procedures.
Assistance in market development through sales & marketing programs.
Financial reviews of business activity.
In-depth cost accounting by area.
On-site professional seminars for new or current employee associates.
There is a new shipping world around the corner and we can help. Call Us.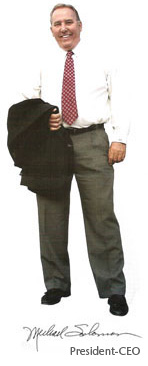 About Me
As the former President of The M.R.S. Companies, I led this nationally recognized leader in freight, warehousing, LTL, over the road trucking, brokerage and 3PL services.
I also owned and operated a medium-size motor carrier in the Midwest, and held numerous top-management positions in private industry, public warehousing, third- party logistics services, and trucking.
I have lectured at major universities, and graduated from Memphis State University's Transportation Program, University of Missouri - St. Louis Management Program, and Southern Illinois University. I have extensive experience in education, training, national and international transportation.